Wisconsin Coalition to Normalize Relations with Cuba Events and Hurricane Relief
"Esteban" from Cuba, showing at Milwaukee Film Festival
Our Coalition is a Community Partner with the Milwaukee Film Festival for the showing of  the inspiring Cuban film "ESTEBAN,"  with music composed by and interpreted by Chuchu Valdes.   It won the "Audience Choice Award" at the 2017 Chicago Latin Film Festival.  Two showings: Sept. 30, 2017 at 3:00 p.m. at the Avalon Theater, 2473 South Kinnickinnic Avenue, and Oct. 12, 2017 at 6:30 p.m. at the Oriental Theatre,  2230 North Farwell Avenue.    Official site
Nine-year-old Esteban ekes out an existence with his single mother on the streets of Havana, but he dreams of a brighter future thanks to his natural affinity for music.  A winning portrait of perseverance with an absurdly charming performance at its center, Esteban is a story for anyone who believes in the power of music to change one's life.

Please support the "Fundraiser for Cuba after Irma" See also  https://www.facebook.com/events/116310815711357/
Sunday, October 8 at 7pm-9pm, featuring Latin music and culture.  The Coffee House (19th St. & Wisconsin Avenue, MKE)
Entertainers will include guitarist & vocalist Darele Bisquera and Troubadour Tony Baez performing songs of love and struggle from the Hispanic world, plus New Orleans jazz and a special music performance from Havana!
The image below shows the storm over Cuba. The eye of the storm is right by Milwaukee's old sister city of Nuevitas, which is on the northern coast of Cuba.  Irma was a category 5 Hurricane from the time it hit Cuba and for 72 hours it spent its force on Cuba, moving slowly along its northern coast, and being reduced to a Category 3 when it hit Florida. As members of Congress including Rep Kathy Castor from Tampa, FL and our own Rep. Gwen Moore, wrote, "Cuba absorbed much of the impact from Hurricane Irma which lessened the damage to southern Florida and the United States." Their letter asks Pres. Trump to use his power to lift restrictions and thus to allow U.S. companies to sell re-construction materials to Cubans. 
Tuesday, Oct 10, 7 pm: Join us for our next monthly Cuba Coalition meeting, at Central United Methodist Church located at 25th St. & Wisconsin Ave., MKE.    We meet monthly, on the second Tuesday.  All are welcome!
DONATE TO MEDICC'S CUBA HURRICANE RELIEF FUND NOW!
Hurricane Irma slammed into Cuba, then hovered over the island for a full 24 hours before moving on. Damages are still not calculated, but these pictures more than tell the story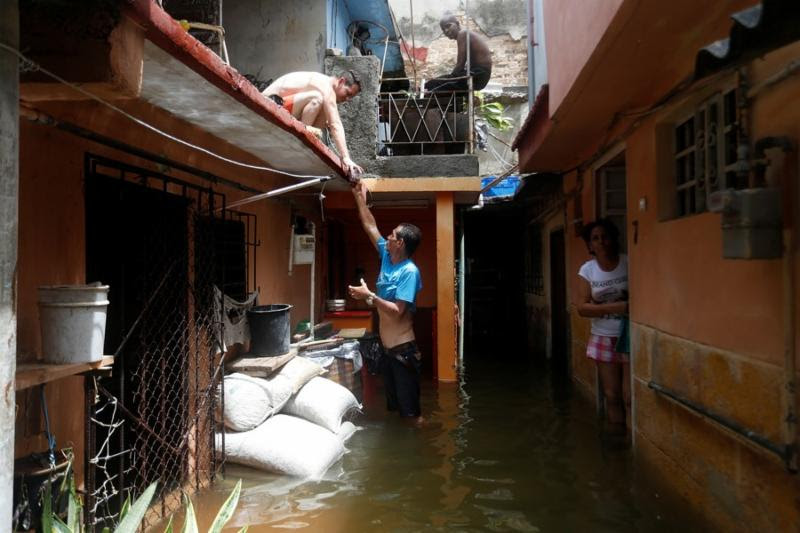 Residents helping each other in a shelter. Credit: Reuters
Cubans are already in recovery mode after this worst-ever national disaster for the country's 11 million people. But while the organization, preparedness and community solidarity are at an all-time high, they need MORE RESOURCES to get the country's services back together…putting the most vulnerable first.
That's why MEDICC is partnering with Global Links and PAHO to get vital supplies and furnishings to health facilities, such as hospitals, neighborhood clinics, maternity homes and senior homes. For more information on Global Links, please visit their website at https://www.globallinks.org/
DONATE NOW. Legally, reliably, with priorities determined by Cuban health institutions.
On behalf of our Cuban partners, and all of us at MEDICC, thank you for your generosity during this difficult time.

Collapsed building in aftermath of Hurricane Irma   Credit: Radiodelsur
Irma: Cuba sends hundreds of doctors to Caribbean islands devastated by hurricane
BY SHEHAB KHAN @SHEHABKHAN SATURDAY 9 SEPTEMBER 2017, THE INDEPENDENT US

CUBAN DOCTORS ON A TRIP TO DOMINICA TO HELP AFTER TROPICAL STORM ERIKA GRANMA
Cuba has sent doctors to several Caribbean islands ravaged by Hurricane Irma.  More than 750 health workers have arrived in Antigua, Barbuda, Saint Kitts, Nevis, Saint Lucia, the Bahamas, Dominica and Haiti.

Cuba airlifts dolphins to safety from deadly hurricane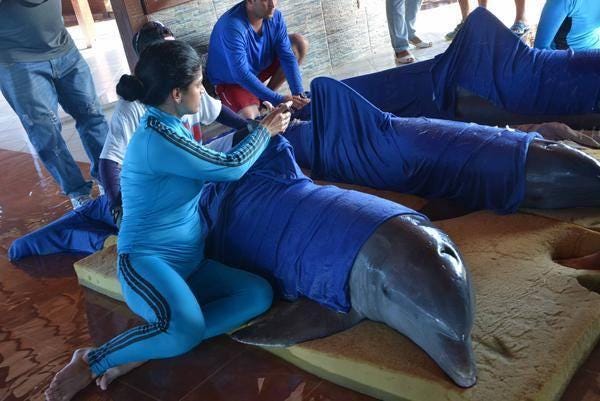 WORKERS CARRIED THE SEA CREATURES TO A WAITING HELICOPTER TO BE EVACUATED AS HURRICANE IRMA THREATENED THE AREA AGENCIA CUBANA DE NOTICIAS/FACEBOOK
Before the Hurricane, by  Branko Marcetic, Jacobin,
Aug. 30, 2017
Cuba is a world leader in hurricane preparedness and recovery. What can we learn from the small island nation?
Note: no new travel regulations have so far been issued by the current Trump administration.
This newsletter from Cuba/US People to People Partnership 
has a great deal of information and travel and related issues & opportunities.  Click here to see this information.  
Sunday, December 3 – Saturday, December 9, 2017  A Healthy Cuba, Healthy World:  Linking Culture, Community & Cooperation. A five-day interactive conference on health, culture, and history to celebrate the 20th anniversary of MEDICC and its work building US-Cuba health cooperation.  Sign up soon, for only $2,500.00 for full package in Cuba!
Global Awareness Through Experience (GATE) CUBA trip — December 1-11 (travel under religious license, organized out of La Crosse, WI; just a few spots still left!)  
To Contact Us:
Wisconsin Coalition to Normalize Relations with Cuba
633 W. Wisconsin Ave., Suite 1410
Milwaukee, WI 53203
(414) 273 – 1040
www.wicuba.wordpress.com | contact@wicuba.org
Check us out on Facebook!